ALASKA 2021
Katmai National Park – Wilderness Lodge!
We fly from Anchorage to Kodiak boarding a float plane the next day for the hop over to Katmai National Park. While in Katmai, you'll enjoy 4 days in an absolutely first class lodge 10 guests maximum) complete with gourmet meals and all the amenities. But we're here to see bears and the 480 mile Katmai coast is home to more than 2,000 Alaskan Brown Bears! Head out on daily boat trips along the coast and then hike to see these magnificent creatures feasting on clams and crabs as appetizers before gorging the main course – salmon! Yes, those films of bears diving unterwater for salmon are true. Bring plenty of film or your camera! Between trips, kick back on your own private deck set against a backdrop of breathtaking mountains and glaciers, beach comb the absolutely pristine coast, or try your hand at salmon fishing alongside the bears.
Return to Anchorage for an evening of last minute shopping or just a night out on the town before your trip home or another Alaskan adventure.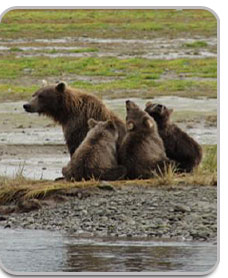 Day 1 / : Fly from Anchorage to the town of Kodiak on Kodiak Island. Overnight.
Day 2.- 4. : By float-plane out to the lodge and bear viewing for 3 nights and 4 days on the Katmai coast.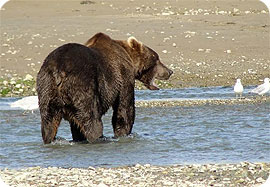 Day 5 / : Fly back to the town of Kodiak and on to Anchorage. Overnight.
Price per person, from Anchorage: $ 5,370.
Single or Double.
Included: All transfers and accommodations. 3 days / 3 nights at lodge with meals. 1 night Anchorage/ 1 night Kodiak including breakfast. Fight from Anchorage to Kodiak by Jet. Flight from the town of Kodiak to the lodge by floatplane.
Not included: Fishing license. Meals except at lodge. Gratuities at the lodge.