ALASKA 2023
Kayak River Tour – Lake Laberge to Carmacks
This classic canoe trip down the Yukon from Whitehorse to Carmacks is specially tailored to visitors who like to travel far away from tourist routes, following the trail of the old history.
Special canoeing skills are not required. The tour starts in Whitehorse on the Yukon river. We will pass many relicts of the historic gold rush time. We will explore several abandoned settlements such as Hootalinqua and Big Salmon Village. Camps are set up on the gravel & sand banks of the mighty river where one can enjoy a refreshing bath in the Yukon River. Watch out for black bears, moose, mammals and beaver.
Arrival Whitehorse
Day 1: Arrival in Whitehorse, meeting the other group members. Overnight in hotel.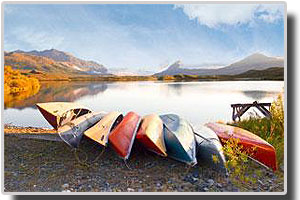 Whitehorse/ Yukon River
Day 2. – 8: Start of the exciting canoe tour in Whitehorse down the Yukon River. We are spending 7 days in this mighty river, traveling over 320 kilometer and exploring the area and surroun-dings of Yukon. We will pass the Teslin River and Big Salmon River and will arrive on day 8 the Indian village Carmacks. Here we end the tour.
Carmacks – Whitehorse
Day 8: Via Klondike Highway by can back to Whitehorse. Transfer to airport or start another tour.
please inquire about the price.