ALASKA 2023
North to Alaska / Arctic National Wildlife Refuge
Kongakut River / Hiking- and rafting tour
You find Arctic National Wildlife Refuge ANWR above the Arctic Circle. Only few of us will ever have the possibility to see and enjoy this area. It is estimated, that the 19 million acre refuge – an area the size of South Carolina – receives approximately 1500 recreational visitors a year. Caribou, polar bears, grizzlies und muskoxen wandern the north slope of the Brooks Range and the highest concentration of nesting golden eagles in Alaska make the Kongakut River corridor their summer home. 12 day Tour starts and ends in Fairbanks.
Fairbanks
Day 1: Arrive in Fairbanks. Transfer to overnight. Day on your own. In the early afternoon, you meet the guide. Meet the rest of the group for dinner. The guide will then discuss the route. Dinner included.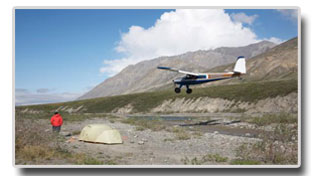 Arctic Village
Day 2: After breakfast, transfer to the airport, where you board a plane to the native village of "Arctic Village" which will take you up north to ANWR. The bush pilot will drop you off at the gravel bar along the river where we set up for camp.
Dall sheep
Day 3: We will spend today in the high country hiking, exploring, looking for Dall sheep, wolves and grizzlies. The hiking in the Refuge is outstanding. Wide open tundra expanses, alpine ridges, and open gravel bars be explored on foot.
Caribou Pass
Day 4 – 11: Since we have near 24 hours of daylight, our schedule on the river is flexible and we will take six to seven days to float the 55 miles of river to our Caribou Pass. The river itself is spectacular as it carves its way through gorges of rock and tundra. We camp, explor-ing, photographing, relaxing and digesting the solitude in this cast, remote wilderness.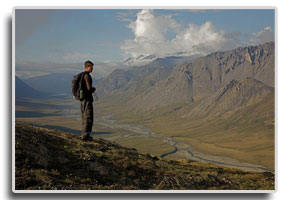 Overnight in Fairbanks
Day 12: Today we break camp and await our pick-up. Once again, our bush pilot will use his skills to negotiate the terrain. Overnight in Fairbanks.
Transfer
Day 13: Transfer to the airport. Or start one of our other tours.
Included:
All group gear (tents, inflatable canoes, stoves, fuel, dry bags, etc.) and safety equipment.

Trekking poles.

Round trip air transportation from Fairbanks to Arctic Village.

Round trip air transportation from Arctic Village into the wilderness.

Lodging 2 nights in Fairbanks.

Professional guide service at a maximum 4:1 client to guide ratio.

All meals from dinner on day one through lunch on the final day of the itinerary.
Not included:
Personal gear (sleeping bags, packs, rain gear, etc.). See Equipment Lists

Trip cancellation insurance.

Alcoholic beverages.

Guide gratuities.
Dates: Tour I: June 13. – 24.; Tour II: July 25. - August 5.
Price per person from Fairbanks. Double occupancy - starting: $ 7,450.—