ALASKA 2023




Fishing- and Adventure Tour
Anchorage/Kodiak
1.Day: We will meet you at the airport in Anchorage. Continue by Jet to Kodiak. Transfer from the airport in Kodiak to the hotel. Overnight in Kodiak. Breakfast included.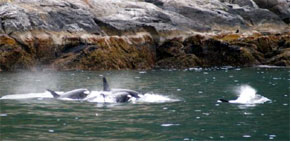 Kodiak
2. Day: Pick up at the hotel at 8 am. Transfer to the floatplane. The flight will take you across the Island to the lodge. 3 days / 3 nights at the lodge. Including meals and guided fishing for halibut and salmon. 1 x Fly out to a different fishing area and bear viewing.
Kodiak – Anchorage – Alyeska
6. Day:By floatplane back to Kodiak. Continue By Jet to Anchorage. We will meet you at the airport. Transfer to Girdwood - Alyeska. It is about a 35 minutes drive along the Turnagain Arm, watch for whales and dall- sheep. 2 nights in Alyeska.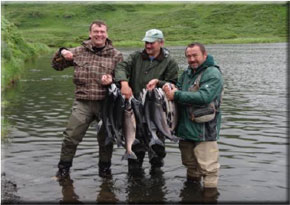 Prince William Sound
7. Day: Transfer to Whittier at 8 am. Private Boattour through the glacierworld of Prince William Sound. Sealion, seaotter, eagle can also be seen on this tour. Lunch, coffee and water will be provided. We leave Whittier and continue with another adventure. By helicopter flight over Prince William Sound including glacierlanding.
An unforgettable Adventure !
Anchorage
8. Day: Transfer to the airport in Anchorage.
Price per person from Anchorage: starting Double occupancy: $ 6,570.
Ad for single occupancy: $ 1,025.
Dates: Anytime between June 10 – September 5,