ALASKA 2023
ALASKA EXCLUSIVE!
Wilderness - Lodges – Wildlife
This tour is specially designed to appeal to the discriminating Alaskan visitor seeking first class accommodations, meals and activities in a variety of Alaskan settings.
Alaskan luxury at its finest!
Anchorage - Girdwood
Day 1: Arrive in Anchorage. Meet and greet at the airport. Transfer to overnight in Girdwood.
Girdwood
Day 2: Transfer to Whittier. Here you board the boat. Boattour through the glacier world of Prince William Sound. Not only glaciers, also sea lion, sea otter, bald eagle can be seen on this tour. Lunch will be served on board.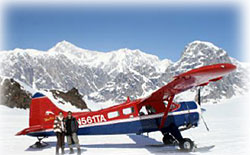 Girdwood - Anchorage - Talkeetna mountain
Day 3: Transfer from Girdwood to Anchorage, Lake Hood. The biggest float plane base. Here you board the float plane which will take you to the wilderness lodge in the middle of Talkeetna mountain. 2 nights and 2 days at the lodge with guided walking tours. All meals included.
Talkeetna mountain
Day 4: Another day at the lodge in the wilderness.
Talkeetna mountain - Anchorage - Kodiak
Day 5: By helicopter from the wilderness lodge to Talkeetna. Continue for a flight over Mt. Denali with glacierlanding. An unforgettable adventure. Transfer to Anchorage to the airport to start another Adventure. By Jet to Kodiak. Overnight in the town of Kodiak.
Kodiak - Katmai
Day 6: Transfer from the hotel to the float plane base. By floatplane to the wilderness lodge in the bear country. Bear viewing at its best. 3 nights, 4 days at the lodge. Daily guided tours. Another unforgettable adventure ! All meals included.
Katmai
Day 7/ 8: In the wilderness. In the bear country.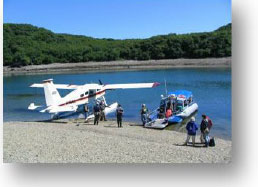 Katmai - Anchorage
Day 9: Return by floatplane from the coast of Katmai to Kodiak. Then continue by Jet to Anchorage. We will meet you at the airport. Transfer to overnight in Anchorage. 2 nights.
Anchorage
Day 10: A day in Anchorage. Time for shopping or to relax. Optional tours are available to book: 1: Rafting tour to Spencer glacier including train ride. 2: By helicopter to the glacier. Here starts the dog sled tour on the glacier - in the middle of the summer. !
End of the tour
Day 11: Transfer to the airport for your flight back home. Or continue on one of our other tours.
Price per person from Anchorage/Double occupancy - starting: US Dollar $ 10,640.
Single occupancy - starting: $ 11,486.
Dates: Tour I: June 6. - June 16 ; Tour II: June 27. - July 7;
Included: All transfers and accommodations including breakfa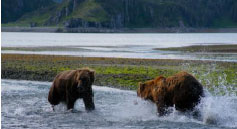 st. All meals and guided tours at lodges.
Flight over Mt. Denali with glacier landing. Boat tour Prince William Sound. 2 days / 2 nights in the Wilderness Lodge Talkeetna mountain including all meals and guided walking tours. 3 nights / 4 days in the Wilderness Lodge at Katmai National Park including guided bear viewing and all meals. All flight to and from the Lodges from Anchorage.
Not included: Meals when not at Lodges. Fishing license. Gratuities and Alcohol at the Lodges. Optional tours.