ALASKA 2023
By rental car 2 weeks trough Alaska!
After arriving in Anchorage head due north to the Matanuska Valley. Continue to Talkeetna for the flight over Mt. Denali. Head south to the Kenai Peninsula and the fishing port of Homer. While in Homer, there are several optional Tours available. Bearviewing; Fishing for Halibut and / or Salmon; Guided Kayaktour; Boat tour to Seldovia.

Anchorage - Matanuska Valley
Day 1: Arrive in Anchorage. After you pick up the rental car, drive to Matanuska Valley, Alaska's Farmland. Overnight in cabins. About 45 minutes drive.
Matanuska Valley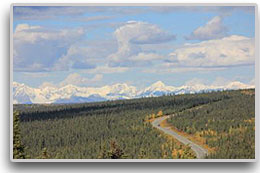 Day 2: Visit Hatcher Pass and the goldmine. Great trails for walking. Visit the musk ox farm.
Matanuska Valley/Talkeetna
Day 3: Drive to Talkeetna. Flight over Mt. Denali with glacier landing. Tours optional: Guided hiking tours. Rafting tours. By Jet boat on the Susitna River. Overnight in Talkeetna.
Denali
Day 4: Depart Talkeetna and drive north to Denali National Park. Overnight outside of the park. 1 night.
Denali - Fairbanks
Day 5: By bus through the Park. Watch out for moose, wolf, caribous and bears. Continue late afternoon to Fairbanks. 2 nights.
Fairbanks
Day 6: Optional: Visit Chena Hot Springs; Alaskaland.
Glennallen
Day 7: Leave Fairbanks. Drive along the Richardson Highway to Glennallen to overnight. On the way, outside of Fairbanks, visit North Pole with Santa Claus house.
Girdwood / Alyeska
Day 8: Today you drive through Anchorage on the way to Girdwood. 3 nights.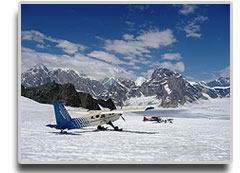 Girdwood / Alyeska
Day 9: Guided Tour: Train- / Rafting tour. By Train to Spencer Glacier. Continue on the Raft to get closer to Spencer Glacier. Continue back to Portage by Train.
Prince William Sound
Day 10: Boattour through the glacier world of Prince William Sound. Sea lion, sea otter, bald eagle can be seen on this tour. Lunch will be served on board.
Homer
Day 11: Continue your journey to Homer to see the Russ. Orth. Church in Ninilchick. Walk and picnic on the beach, if weather permits. Stop at Anchor Point for another beach walk. Very often eagle can be seen there. Continue to Homer to overnight. 3 nights in Homer.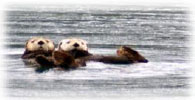 Homer
Day 12 / 13: Optional Tour: Tour to the bear country! By small plane to the coast of Katmai for bear viewing. An unforgettable adventure! By boat to Seldovia. A quaint village only to be able to get there by plane or boat. Another optional tour: Guided kayak tour or halibut fishing.
Anchorage
Day 14: Drive to Anchorage to overnight.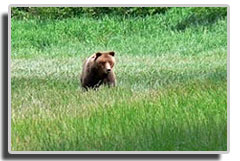 End of The Tour
Day 15: Return the rental car. Transfer to the airport.
Price per person, double occupancy, from Anchorage - starting: $ 4,121.--
Included: All accommodations. All activities as mentioned.
Not included: Rental car. Most meals. Fishing license. Optional tours as mentioned.