ALASKA 2023
3 NATIONAL PARKS – Self Drive and fly - in
Denali National Park - wildlife/nature
Wrangell-St. Elias National Park – Kennicott Mine/Glacier walk
Kenai Fjords National Park – sea lion /whales
Alaska – 2 weeks unforgettable adventure!
Anchorage
Day 1: We will meet you at the airport in Anchorage. Transfer to rental car company and to the accommodation in Anchorage.
Seward / Kenai National Park !
Day 2: Drive to Seward. Along the Turnagain Arm. Watch out for Dall sheep and Whales. In Seward board the boat. Day tour through Kenai Fjords National Park and the Gulf of Alaska. Sea lions, sea otters, puffins and eagles can be seen on this tour. Lunch will be served on board. Stay 2 nights in Seward.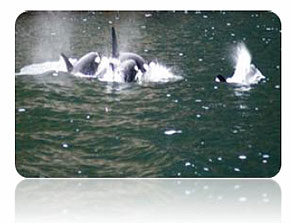 Seward
Day 3: Optional tours: in Seward: fishing tour for halibut and salmon. Hiking tour to Exit glacier.
Spencer Gletscher
Day 4: Drive to Portage. Here starts the tour to the Spencer Glacier. First by train, this is the only way to get there, then continue by raft. Return by train to Portage. Then drive to Alyeska to overnight. 2 nights.
Alyeska
Day 5: Optional tour: By helicopter to the glacier. The huskies are waiting. Take a dogsled ride and this in the middle of summer. If you desire, you can be your own musher. We also recommend to do a hiking tour. It's a great area to be outdoors.
Talkeetna/Denali
Day 6: Drive to Talkeetna. To get there you drive through Anchorage. (take time to do some shopping for groceries.) Then continue to Matanuska Valley to get to Talkeetna. From there, take a flight over Mt. Denali. With glacier landing. Overnight in Talkeetna.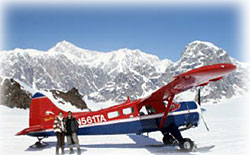 Denali National Park!
Day 7: Continue north to Denali National Park to overnight.
Denali National Park!
Day 8: By bus through the park. Watch for moose, grizzlies, wolf, cariboues. Overnight outside of the park.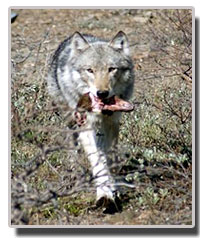 Fairbanks
Day 9: Leave Denali National Park and continue north to Fairbanks to overnight.
Wrangell-St. Elias National Park!
Day 10: An early start today. Continue Richardson Highway going south to Glennallen, visit Copper Center and the information center of Wrangell-St. Elias National Park. We recommend that you to watch the movie. Continue to the airport in Chitina. Take the last flight to Mc Carthy. About 5 pm. 3 nights at the Kennicott Lodge.
Wrangell-St. Elias National Park!
Day 11 / 12: Optional tour: Guided glacier walk. Guided historical walk through the Kennicott mine.Hike the Bonanza Trail.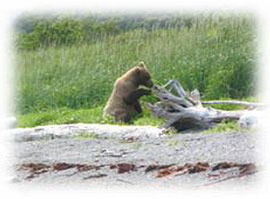 Matanuska Valley
Day 13: In the morning flight back to Chitina. Continue by car to Glennallen Highway. Overnight at cabins near the Matanuska Glacier.
Anchorage
Day 14: Day in Anchorage. Optional tours are available.
Anchorage/ End of the tour
Day 15: Return the rental car. Transfer to the airport for your flight back home or continue on one of our other tours.

Price per person, from Anchorage, double occupancy - starting: $ 4,828.

Included: All accommodations, Activities as mentioned.

Not included: Meals, rental car; tours optional; entry fees - Big Game