ALASKA 2017



4 weeks by Automobile through
ALASKA / YUKON
After arrival head due north to the Matanuska Valley. Continue on to Alaska's crown jewel, Denali National Park and Preserve. Take a bus tour through the park and home of Brown Bears, Caribou, Moose, Eagles, Fox, Dall Sheep, just to name a few. Next, head up to Fairbanks - your jumping off point to a relaxing Chena Hot Springs visit and a tour of the 44-acre Pioneerland Historical Pioneer Park.
Drive south to Skagway, Alaska, where you can take an optional railroad trip over the famous gold rush era, Chilkoot Pass. While in Skagway, enjoy attractions like the Klondike Gold Rush National Historical Park, the Days of '98 Show with Soapy Smith, or a Flight seeing tour. Continue south 14 miles to Haines, a charming little seaside town located on the shores of America's longest fjord and surrounded by spectacular peaks, glaciers, rivers, and lakes.
Next, take the Top of the World Highway to Dawson City, Canada, the heart of the great Klondike Gold Rush. Visit the Palace Grand Theater, the Jack London Cabin, and Canada's most unique casino, Diamond Tooth Gertie's Gambling Hall. Yes, gambling is legal in Dawson City!
Head south to the Kenai Peninsula and the fishing port of Seward. While in Seward, take a glacier cruise in the Gulf of Alaska and walk to the face of one of the Kenai Peninsula's post popular attractions, Exit Glacier.Nature, history, culture, and play all make this per-haps our most ambitious and fun tour offering ever!
Anchorage - Matanuska Valley
Day 1: Arrive in Anchorage. We will meet you. Transfer to rental car company. Overnight in Anchorage.
Matanuska Valley/Talkeetna
Day 2: Drive to Matanuska Valley, Alaska's Farmland. Visit Hatcher Pass and the goldmine. Continue to Talkeetna, a quaint little town. 2 nights in cabins.
Talkeetna
Day 3: In the morning flight over Mt. Denali with glacier landing. An unforget-table adventure. Optional tours: Zipline tours. Fly out for fishing. Hiking tours.
Matanuska Glacier
Day 4: Leave Talkeetna and drive through Palmer. Continue on the Glenn Highway to the Matanuska glacier. Overnight in cabins overlooking the glacier.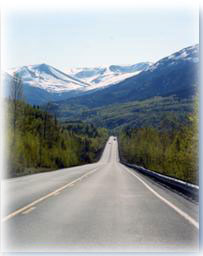 Tok
Day 5: Continue on the the Glenn Highway to Glennallen. Important to gas up here before continuing to Tok. Overnight in Tok.
Whitehorse
Day 6/7: From Tok continue to Whitehorse, Capital City of the Yukon Territory.2 nights in Whitehorse.
Skagway
Day 8./9.: Continue to Skagway. Visit the quaint little gold rush era town. We recommend to visit the museum from the gold rush. Optional tour: by boat to Juneau. See the capital city of Alaska. Often, you can see whales on the way.3 nights in Skagway.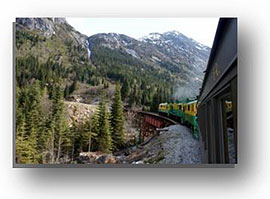 Skagway
Day 10: In the morning take the White Pass Train – Chilkoot train. An unfor-gettable train ride. This train ride will give you more details about the gold rush time.
Dawson City
Day 11./13.: Von Skagway to Dawson City. Drive along the famous Yukon Riv-er. Check out the different spots from the gold rush time. Pan for gold and visit the famous Diamond Tooth Hall.Optional tour: Dinner tour on the boat on the Yukon River.
Tok
Day 14: Continue from Dawson City to Tok to overnight in cabins.
Valdez
Day 15./16.:
From Tok to Glennallen. Then continue to Valdez. Take time to visit the Worthington Glacier. 2 nights in Valdez.
Valdez / Kenai Peninsula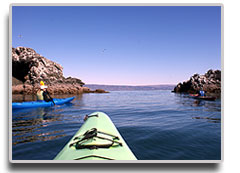 Day 17: Take the ferry to cross the Prince William Sound. You pass the Columbia Glacier. The ferry ends in Whittier. Continue to drive to overnight.
Homer
Day 18: Drive on to Homer to overnight. Along the way, stop in the small town of Ninilchick to see the Russian Orthodox church and in Anchor Point at the beach. 3 nights.
Homer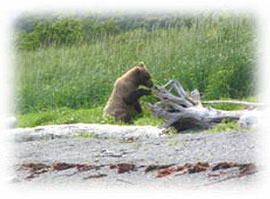 Day 19: Another great and unforgettable guided day tour. By small plane to the coast of Katmai into the bear country. See the grizzlies close up. Watch them how they play, sleep, catch the fish.
Homer
Day 20.Optional tours:
By boat to Seldovia. A quaint village only to be reached by boat or small plane.You pass a bird's island where hundreds of birds are nesting. The sea otters are close by. * Halibut fishing. *Guided kayak tour.
Seward
21. Tag: Along the highway I back to Soldotna and continue to Seward. Walk to the exit glacier.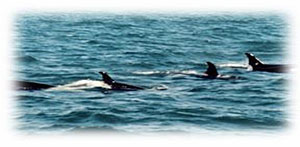 Seward
Day 22: Day tour by boat through Kenai Fjords National Park and the Gulf of Alaska. Sea lions, sea otter, puffins and eagles can be seen on this tour. Lunch will be served on board.
Seward
Day 23: Another day in Seward. Optional tours: 1: by helicopter to the glacier where to kayak tour starts. Kayak in front of the glacier where often seals can be seen. 2: Sail- / kayak tour. 3: Fish for halibut and salmon.
Spencer Glacier
Day 24.: Continue from Seward to Portage. There, you board the Hurricane train to get to Spencer Glacier. Lunch will be served in front of the glacier. Raft along the lake in front of the glacier and down the river before you continue by train back to Portage. Continue to Alyeska to overnight. 3 nights.
Girdwood - Alyeska
Day 25./26.: This area is great for hiking. Visit the crow creek mine and pan for gold. Or visit Big Game. Optional tours:1. by helicopter to the glacier. The husk-ies are waiting. Take a dogsled ride and be your own musher. 2: Four wheeler tour. 3: by helicopter over the glacier world of the Prince William Sound.
Anchorage
Day 27: Day on your own in Anchorage. For shopping or visit the museum.
End of the tour
Day 28: Drive to Anchorage. Return the rental car. Transfer to the airport.
Price per person, double occupancy, from Anchorage: $ 6,578
Dates: anytime between May 25 and September 10

Included: All accommodations. All activities as mentioned.
Not Included: Rental car. Most meals. Fishing license. Optional tours asmentioned. (We recommend reservation for the optional tours in advance).